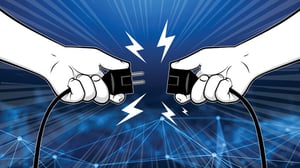 One of the best ways to get access to your network and see what is happening on a network line is to place a network TAP that gives you full visibility without dropping any packets. However, the last thing you want to happen is that your network goes down in case of an unexpected power failure to the TAP device.
To prevent network problems in case of power loss, most modern Ethernet TAPs on the market have some sort of fail-safe mechanism in place, that will switch over to make sure both ends of the line stay connected.
This
fail-safe mechanism will make a physical connection betw
een the network ports on the TAP to keep the traffic flowing.
But, there's a big catch here, as the fail-over time can vary greatly depending on the TAP brand. This is an important aspect of this feature, because in the time the TAP switches into its fail-safe mode, packets are lost.
Profitap network TAPs come with a No Break feature which makes sure that the TAP switches much faster than other TAP solutions on the market.
Network Specialist Mike Pennacchi from Network Protocol Specialists has tested a
few to see how their failover time compares.
The result? When compared to other TAPs on the market, the Profitap Network TAP with No Break was able to recover from power problems faster than any of the other TAPs Mike tested.
Profitap Network TAP
Power Fail: 27ms
Power Apply: 289ms
Brand 1 Network TAP
Power Fail: 3.65s
Power Apply: 3.69s
Brand 2 Network TAP
Power Fail: 4.45s
Power Apply: 4.22s
Brand 3 Network TAP
Power Fail: 3.96s
Power Apply: 4.41s
Network TAPs are a must-have when it comes to network monitoring, but there are still some differences between TAP models from different vendors that you need to take into account. One of the things you need to make sure is that the TAP of your choice has the No Break feature to minimize the risk of downtime and ensure complete protection of your network. Read more about this feature in our No Break feature article.